Bordeaux
UNITED x GRIBALDI
Grand Prix Dressage, Champion KWPN Stallion Show 2009, Performance Champion 2009, Top Producer
Stud Book:
KWPN, OLD, RHEINLAND, WESTFALEN, HANN
Health Status:
WFFS Negative
Stud Terms:
Split Terms - Repeat attempts until 1st October 2023. If no pregnancy is achieved in this period, a refund of £1,306 + VAT will be given upon receipt of a "Not In Foal" Veterinary Certificate
Stud Fee:
See Below - Chilled Semen Available until 31st August 2023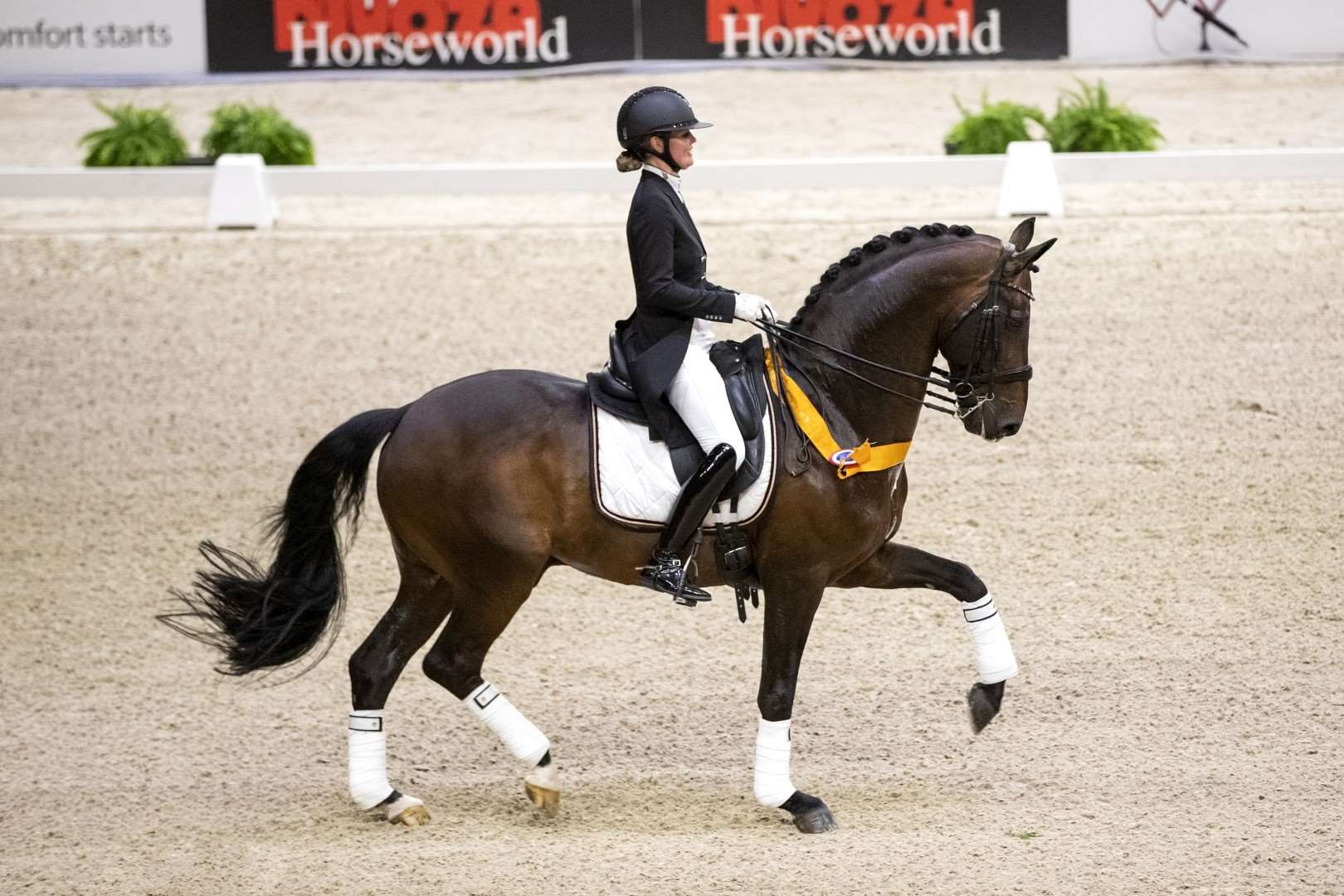 No products match your search criteria
Biography
Bordeaux - a perfect pedigree: United x Gribaldi x Donnerhall x Rousseau x Angelo xx. Angelo xx daughter Adone is also the mother of Rembrandt. Bordeaux descends from the famous de Baey Olympian line, from which come Rembrandt, Amon, Ahlerich and Rubinstein. Rembrandt won four gold medals with Nicole Uphoff in 1988 and 1992 at the Olympic Games in Seoul/KOR and Barcelona/ESP. Ahlerich won individual and team gold with the riding master Dr. Reiner Klimke at the 1984 Olympic Games in Los Angeles/USA, the 1982 World Championships in Lausanne/SUI and the 1985 European Championships in Copenhagen/DEN. Ridden by Annemarie Sanders-Keyzer/NED, Amon took part in the Olympic Games three times, won the Dutch Championships seven times and was considered the most successful dressage horse in the Netherlands at the time. Rubinstein was part of the Olympic team with Martina Hannöver and is well-known for the good rideability he passes on to his offspring. 2018 Star producer from Olympian lineage Again in 2018, the KWPN Champion Stallion and Grand Prix winner Bordeaux, impressively proved his outstanding power of heredity: for example with the German Federal and State Champion, Bitcoin, the Vice Federal and State Champion, Brooker's Girl, the Hanoverian Dressage Champion, Best Friends and the finalist of the dressage World Championships for Young Horses and German Championships and third-placed in the Burg Cup, Bluetooth OLD, ridden by Ingrid Klimke. Among his numerous breeding highlights are Biscaya OLD: Oldenburg Reserve Champion, Vice German Champion and Auction Price Record Holder; Mount St. John Best of All: British Dressage Champion and successful up to small tour level; Guadeloupe-Beau: Pavo Cup winner and bronze medallist of the World Championships for young dressage horses; the two Oldenburg Vice Regional Champions: Bergolio OLD and Heide Queen OLD, and Le Formidable: best Dutch dressage foal. Over 25 of Bordeaux' sons have been licensed, including Bordeaux' Barolo, victorious up to Inter I level, and Buckingham, winner of his stallion performance test. With our stallions Krack C and TCN Partout, his sire United has two internationally successful Grand-Prix stallions in his pedigree, both ridden by Anky van Grunsven/NED. He completed his stallion performance test in Ermelo/NED with exceptional scores: 9.5's for trot, for canter and for his disposition as a dressage horse. Ridden by Edward Gal/NED, he was placed in Small Tour competitions. With Brooklyn, TC Athene, Aquamarijn and MDH Avanti, he has produced further highly successful Grand-Prix horses. The dam's sire our stallion Gribaldi was Trakehner Champion Stallion, victorious at Grand-Prix level with Edward Gal/NED, Trakehner Stallion of the Year in 2008, was honoured with the top predicate "preferent" in the Netherlands and led the WBFSH world ranking of the best dressage sires in the world in 2014, thanks to his descendants Totilas, Girasol, Sisther de Jeu, Peter Pan and Painted Black . His grand dam Leandra M, ridden by Hans Peter Minderhoud/NED was successful up to St. Georges level. The dressage hero Donnerhall appears in the third generation.
Notable Progeny
Bordeaux offspring highlights: Grand Prix - Bohemian from Catharine Dufour. Scores with 83+% - Bluethooth with Ingrid Klimke - Rose of Bavaria with Laura Tomlinson - Bonheur de la Vie with Sandra Luxoll - Blackmoney with Annett Böhm Prix St. Georges - Ferdeaux with Hans Peter Minderhoud - Fame with Sophie Lexner - Geronimo with Floor van Kempen - Best of All with Emma Jane Blundell - Barroso with Larissa Pauluis - Haronia-Donna with Joyce van Opbergen - Bardolino with Daniela Groenke - Bordolino with Kim Diederik van Silfhout - Fergievrouwe with Iris Hoppel - Johnny Depp - Megatalent with Renate van Uytert- van Vliet (see his page on our website for further details) In 2019, five Bordeaux sons were shown at the KWPN Stallion selections in Den Bosch. All five were selected for the KWPN Performance test: - Champion Le Formidable (ds. Ferro) bred and owned by Saskia Poels and Karel Gerrits. - L'avenue (ds. Connaisseur) bred by van Uytert and Albert Drost with the famous mare Haute Couture - Livius- Utopia (ds. Vivaldi) bred out of the ZZ- line mare Blueberry- Utopia by van Uytert and Randolph van de Heuvel - Legend (ds. Florencio) out of the famous Landsvrouw line bred by Marianne Hendriksen. - The fifth son, which has Sir Donnerhall as the dam sire, was imported by VDL from Oldenburg.
Results for Bordeaux
- Champion Stallion at the KWPN licensing in 's-Hertogenbosch/NED - Stallion performance test winner in Ermelo/NED in 2009 - Highly-placed finalist at the Pavo Cup Final (comparable to the German Championships) in Ermelo/NED with Eva Möller in 2010 - 4th place at the World Championships for six-year old dressage horses in Verden in 2012 - Winner in the annual final of the stallion competition series in 's-Hertogenbosch/NED in 2013 - Winner Grand-Prix placings in 2015, - Placed at the Louisdor Prize Final in Frankfurt in 2016 - Competed under Isabell Freese/NOR, in the European Championships in Gothenburg/SWE in 2017 - Further international Grand Prix successes in Hagen and Hamburg in 2018.