Carrick Diamond Lad
FLAGMOUNT DIAMOND x SKY BOY
Carrick Diamond Lad is the ultimate traditional sport horse; the result of many generations of very selective Irish Sport Horse Breeding, it is for this reason he is becoming one of the most sought after sires in Ireland & the U.K.
Disciplines
Eventing, Multi-Purpose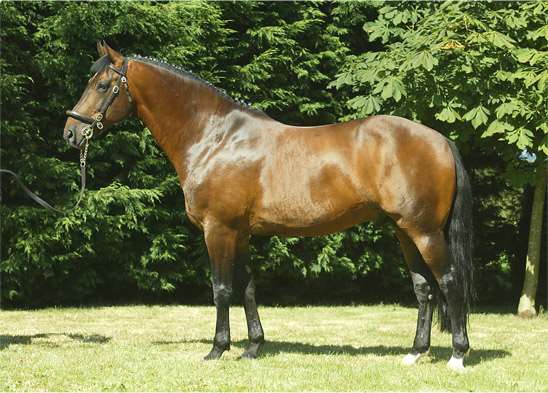 No products match your search criteria
Biography
The Ultimate Traditional Irish Sport Horse Fully approved by the Irish Horse Board as an Irish Sport Horse stallion, with a 5* rating based on his progeny's performance. This traditional Irish bred stallion carries all of the top performance bloodlines. His sire, Flagmount Diamond, produced international show jumpers and provided us with some of the best broodmares in the world. Flagmount Diamond is the sire of Hopes are High, winner of the Du Maurier in Calgary (ridden by Nick Skelton). Carrick Diamond Lad has three crosses of Thoroughbred on his dam side, including Sky Boy and Ozymandias, both of which have impeccable records as performance sires. In addition, his great grand dam is by Highland Flight (T.B.) It is probably this triple injection of T.B. in the dam's pedigree which has given Carrick Diamond Lad's progeny the stamina for showjumping, 3-day eventing and dressage. Carrick Diamond Lad's promising performance career was unfortunately never realized due to a horrendous injury to the fetlock joint in a freak accident as a foal. Despite this handicap and from an initial small book of mares, he has produced many superb horses including Uskerty Diamond Lady, Carrick KIlderrys Diamond, Diamond Ructions, Finest Diamond Clover and Diamond Duette amongst many. Carrick Diamond Lad passes on a number of desirable traits to his offspring. These include: Trainability, Movement, Athleticism, Courage, Jump, Versatility. It is his unique ability to pass on athleticism and movement in combination with the renowned brain and trainability of the Irish bred horse that makes him such a special sire. For this reason, more and more breeders are looking to Carrick Diamond Lad as their chosen stallion.
Notable Progeny
Renowned for producing top quality stock. The numerous horses listed by him that are at FEI level proves that is one of the best breeding stallions around.