Chat Botte Du Ruisseau Z
CASALL ASK x DARCO
This striking chestnut stallion (Casall x Darco) came from Dutch rider Jonny Pals to join Billy Twomey at the end of 2018
Stud Book:
Licenced KWPN, Zang.
Health Status:
WFFS Negative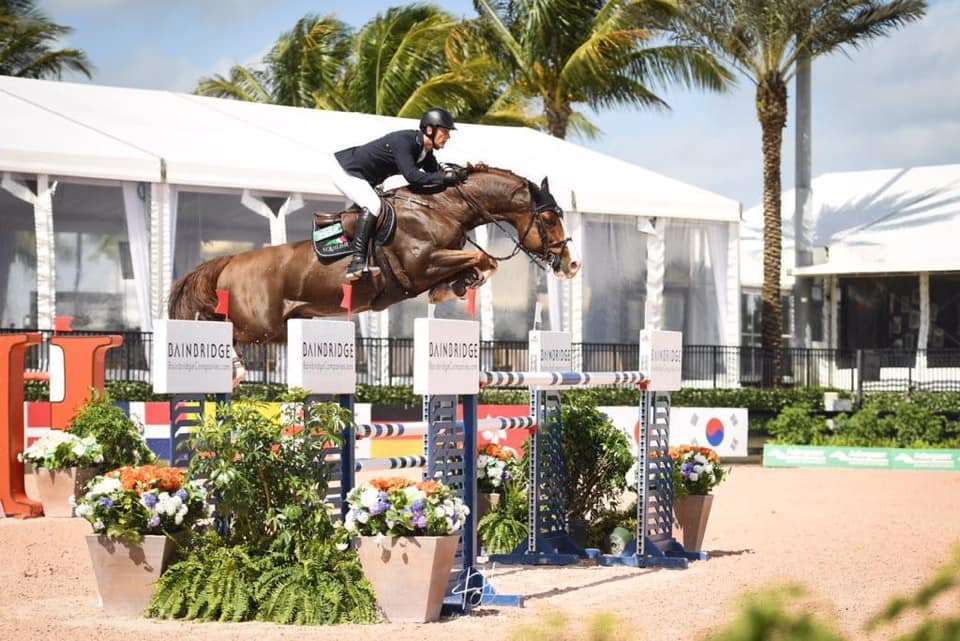 Buy Chat Botte Du Ruisseau Z semen
Owner/Agent: Stallion AI Services
Contact: 01948 666295
Email: office@stallionai.com
Note: SAIS is agent for this stallion and the stud fee(s) shown are payable via this website
No products match your search criteria
Biography
After producing triple clears in CSI5* Nations Cup Teams sealing the win for the Netherlands, he has already had some good five-star wins under his belt with Billy. He is known as Eddie at home. Billy Twomey says "He's a beautiful looking stallion, as are his youngstock actually - talk about stamping stock, I saw 10 or 15 of his foals and yearlings and they look really like him and they all get this little bit of white everywhere just like him," says Billy. "He's a megatalented horse. He's already had very good results - he was second in Ascona five-star grand prix, he won in Dinard and had a good result in Gijon in the Nations Cup. He's getting there with me, we're just trying to build a relationship with him. It depends how Covid works out, but I'll be getting him up to speed and finding out where the shows will be." Sire: Casall Ask is the Holsteiner breed's poster boy and highachiever, at stud and in sport. Casall's dam Kira traces back to stem 890, one of the most successful Holsteiner performance mare families. At the 2005 stallion licencing in Neumünster, her son Clarence by Carano attracted a lot of attention and won reserve champion. Casall's 2nd dam, Maltia by Raimond, produced Taura (by Lord), and Taura in her turn produced the licenced stallions Ringo Starr and Cesano I and Cesano II.
Notable Progeny
With over 30 foals already produced in Europe, 2020 was Chat Botte Du Ruisseau Z's first season standing at stud in the UK, capturing 30 mares within a month. The stock born in 2021 have been truly outstanding, proving very popular with purchasers worldwide.
Videos of Chat Botte Du Ruisseau Z
Results for Chat Botte Du Ruisseau Z
• 1st 2018 CSIO5* NC - Falsterbo 1.60m • 2nd 2022 CSI5* GP - St. Tropez - Grimaud 1.60m • 2nd 2020 CSI3* GP - Vejer de la Frontera 1.60m • 4th 2019 CSIO5* -NC - Gijon 1.60m • 4th 2019 CSI5* - Ascona 1.60m • 4th 2019 CSI3* - Nörten-Hardenberg 1.60m • 6th 2020 CSI3* - Vejer de la Frontera 1.60m • 8th 2018 CSIO5* - Rome 1.60m • 10th 2018 CSI3* Opglabbeek 1.60m