Emerald
DIAMANT DE SEMILLY x CARTHAGO
Buy an Emerald covering through Stallion AI Services this season for a chance to 𝐖𝐈𝐍 𝐁𝐀𝐂𝐊 𝐘𝐎𝐔𝐑 𝐒𝐓𝐔𝐃 𝐅𝐄𝐄
Stud Book:
BAVAR, BWP, HOLST, KWPN, OLDBG,SF, SWB
Health Status:
WFFS Negative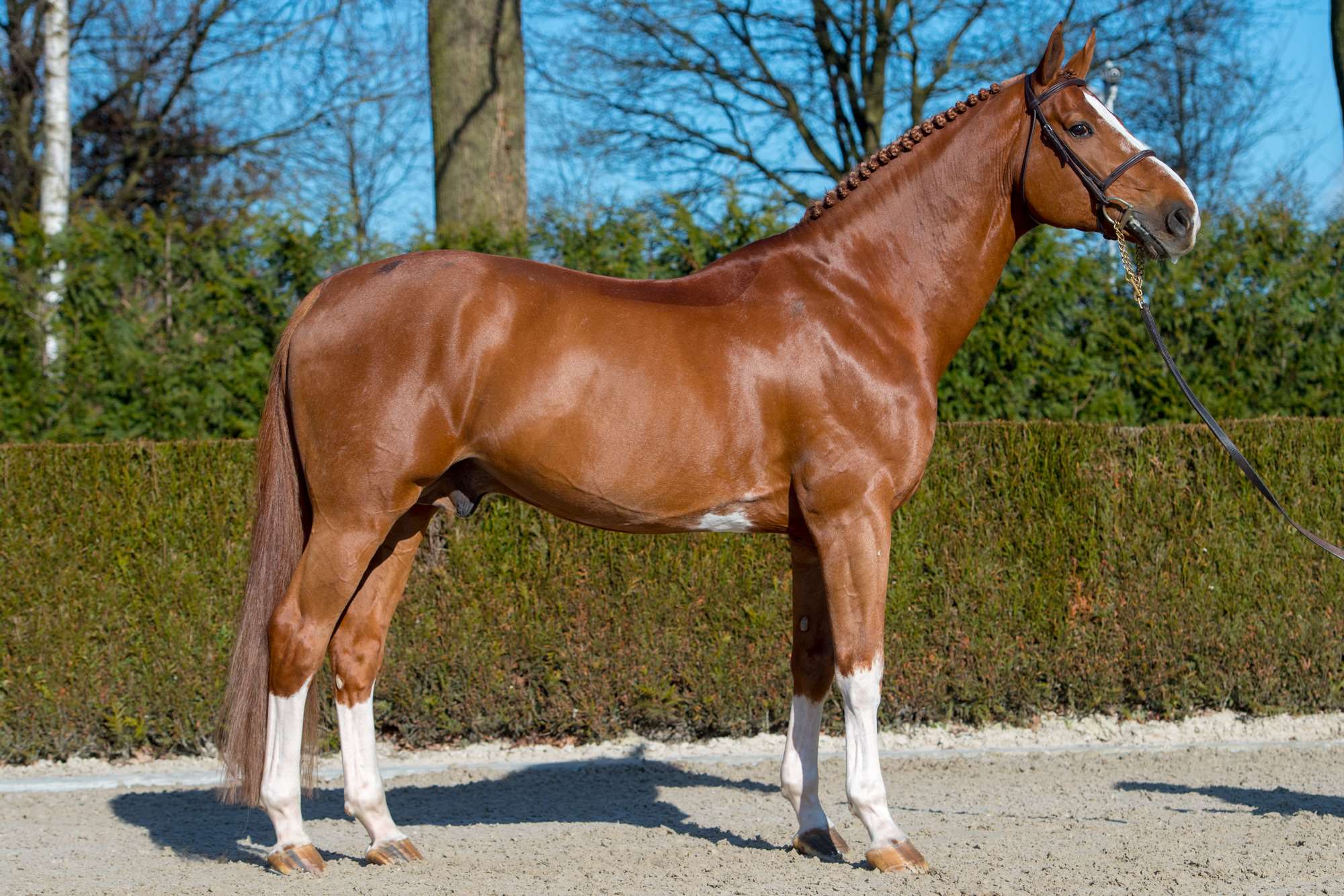 No products match your search criteria
pedigree
TANAGRA 'S' VAN HET DAROHOF
Biography
Emerald van't Ruytershof – BWP Ambassador, Olympic Stallion & World Ranking Sire No. 12 Emerald is one of the absolute top favourites among Breeders Worldwide The success story of Emerald and his rider Harrie Smolders started in 2010, when they became Reserve Champions at the World Championship for young horses in Zangersheide, Emerald was 6 at the time. This was followed by countless victories at the highest level, with wins in 2013 in the Nations Cup in both Aachen and Gijon, in 2015 they won the Nations Cup in Falsterbo and the World Cup leg in Washington. In the World Cup final in Gothenburg 2016 they were 2nd, after which they participated in the Olympic Games in Rio and won the Nations Cup in Rotterdam. In 2017 there was a win in the Chantilly GP, and a 2nd place in the Versailles GP, and the following year a win in the Bordeaux GP and a 2nd place in the Cannes GP. After his brilliant career, Emerald retired at the beginning of 2019, to fully focus on breeding. Due to his impressive palmares and qualities as a stallion, and his many successful offspring, Emerald is one of the absolute top favourites among breeders. 𝗕𝘂𝘆 𝗮𝗻 𝗘𝗺𝗲𝗿𝗮𝗹𝗱 𝗰𝗼𝘃𝗲𝗿𝗶𝗻𝗴 𝘁𝗵𝗿𝗼𝘂𝗴𝗵 𝗦𝘁𝗮𝗹𝗹𝗶𝗼𝗻 𝗔𝗜 𝗦𝗲𝗿𝘃𝗶𝗰𝗲𝘀 𝘁𝗵𝗶𝘀 𝘀𝗲𝗮𝘀𝗼𝗻 𝗳𝗼𝗿 𝗮 𝗰𝗵𝗮𝗻𝗰𝗲 𝘁𝗼 𝗪𝗜𝗡 𝗕𝗔𝗖𝗞 𝗬𝗢𝗨𝗥 𝗦𝗧𝗨𝗗 𝗙𝗘𝗘 𝗔𝘁 𝘁𝗵𝗲 𝗲𝗻𝗱 𝗼𝗳 𝘁𝗵𝗲 𝘀𝗲𝗮𝘀𝗼𝗻 𝘆𝗼𝘂 𝘄𝗶𝗹𝗹 𝗯𝗲 𝗲𝗻𝘁𝗲𝗿𝗲𝗱 𝗶𝗻𝘁𝗼 𝗮 𝗱𝗿𝗮𝘄. 𝗧𝗵𝗲 𝗹𝘂𝗰𝗸𝘆 𝘄𝗶𝗻𝗻𝗲𝗿 𝘄𝗶𝗹𝗹 𝗵𝗮𝘃𝗲 𝘁𝗵𝗲𝗶𝗿 𝘀𝘁𝘂𝗱 𝗳𝗲𝗲 𝗿𝗲𝗳𝘂𝗻𝗱𝗲𝗱. 𝗙𝗼𝗿 𝗺𝗼𝗿𝗲 𝗶𝗻𝗳𝗼𝗿𝗺𝗮𝘁𝗶𝗼𝗻 𝗽𝗹𝗲𝗮𝘀𝗲 𝗰𝗮𝗹𝗹 𝟬𝟭𝟵𝟰𝟴𝟲𝟲𝟲𝟮𝟵𝟱 𝗼𝗿 𝗲𝗺𝗮𝗶𝗹 𝘀𝗮𝗹𝗲𝘀@𝘀𝘁𝗮𝗹𝗹𝗶𝗼𝗻𝗮𝗶.𝗰𝗼𝗺 𝗧𝗵𝗶𝘀 𝗮𝗽𝗽𝗹𝗶𝗲𝘀 𝘁𝗼 𝗰𝗼𝘃𝗲𝗿𝗶𝗻𝗴𝘀 𝗽𝘂𝗿𝗰𝗵𝗮𝘀𝗲𝗱 𝗮𝗻𝗱 𝘂𝘀𝗲𝗱 𝗯𝗲𝗳𝗼𝗿𝗲 𝟭𝘀𝘁 𝗔𝘂𝗴𝘂𝘀𝘁 𝟮𝟬𝟮𝟯.
Notable Progeny
Igor, Imerald van't Voorhof, Mandato van de Neerheide, Nice van't Zorgvliet, Nikka vd Bisschop, Jaguar vd Berghoeve, Ictus d'Emma, Kasper van het Hellehof, Eluna CL Z, Manhattan van't Leeuwerikenhof, El Barone 111 Z, Kavalli di Magico, Ibbo van't Keldertje, Haya Loma N, Hearst DB, S & L Cocodrille, Iluna, E-Maitresse TVH Z, Milton, Labelle vd Middelstede
Results for Emerald
• 2018 CSI5*-W - GP - Bordeaux 1.60m • 2017 CSI5* GCT/GCL - GCL - Valkenswaard 1.60m • 2017 CSI5* GCT/GCL - Grand Prix - Chantilly 1.60m • 2017 CSI5* GCT/GCL -: GCL - Chantilly 1.60m • 2016 Rio de Janeiro - Olympic Games - 1.60m • 2016 CSIO5* - Nations Cup - Rotterdam 1.60m • 2016 Göteborg - World Cup Final 1.60m • 2015 CSI4*-W - World Cup - Washington 1.60m • 2015 CSIO5* - Nations Cup - Falsterbo 1.60m • 2013 CSIO5* 2013 - Nations Cup - Gijon 1.60m