Ferdeaux
BORDEAUX x FERRO
Winner KWPN / KNHS stallion competition class M 2015/2016
Stud Book:
KWPN, Oldenburg, Hannover
Health Status:
WFFS Negative
Stud Terms:
Up to 3 doses to Achieve 1 Pregnancy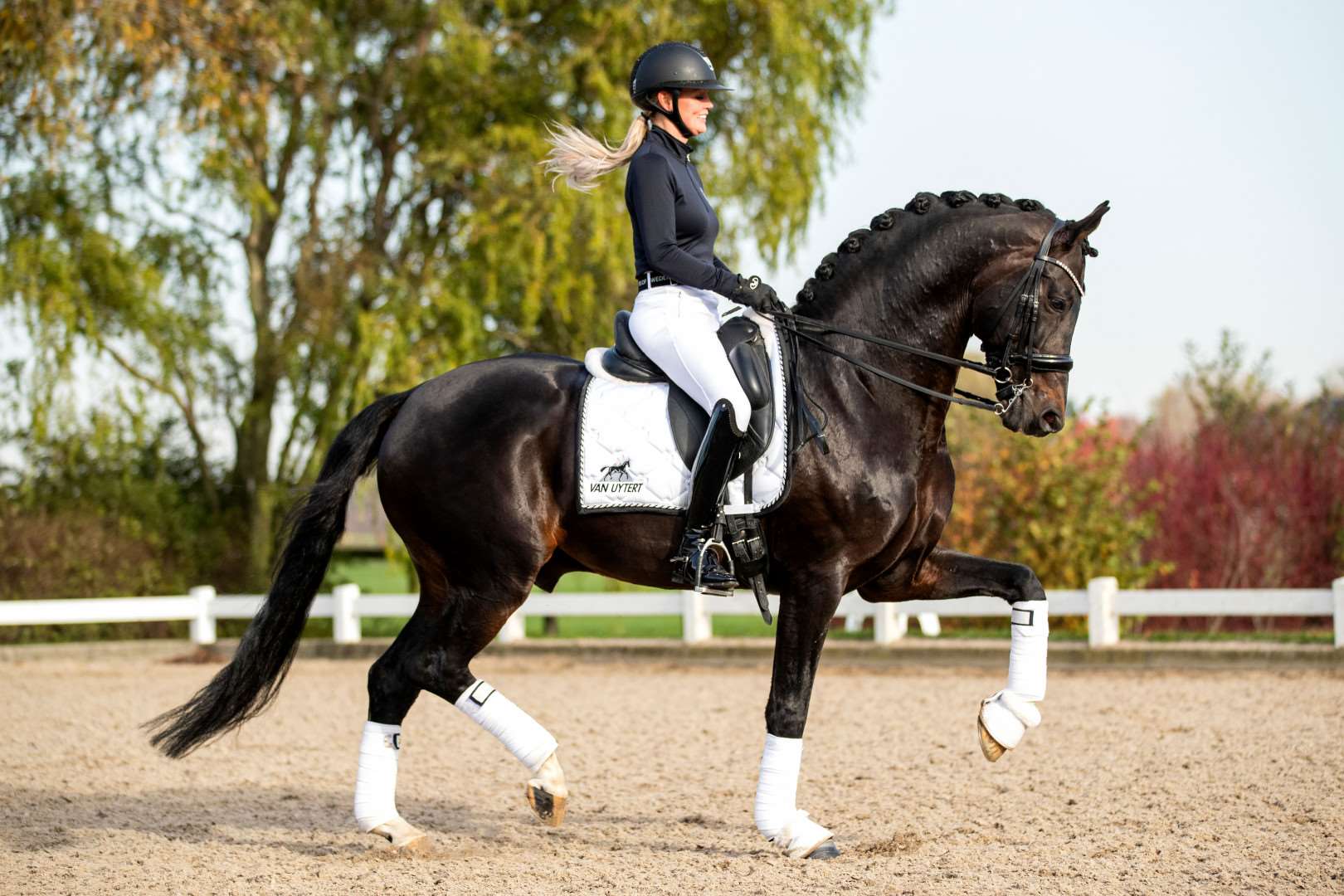 No products match your search criteria
Biography
Ferdeaux follows in the footsteps of his sire Bordeaux and grandfather Ferro as a sire. Bordeaux is a top proven dressage sire competing Grand Prix, Champion KWPN Stallion Show 2009, Performance Champion 2009. Bordeaux has countless offspring at the top of both the dressage competition and breeding. See his page on our website for full details. Ferdeaux's dam, Part Two, is a ster preferent prestatie mare by Ferro. Her other offspring include four Prix St. Georges horses, including U-Two and Winne-Two (s. Goodtimes) and Double Trouble Two (s. Jazz), as well as a Z-level dressage horse by Krack C. Ferdeaux's granddam Fabiola earned the ster predicate. She is a daughter of the Le Mexico son, Zonneglans. Fabiola's offspring include a small tour horse by Metall and a Z2-level horse by Equador. The dam-line continues with the ster mare Wenda, a Rubinstein (s. Lorenz) daughter out of Jella, a ster mare by Epigoon x Avenir. In 2017, Ferdeaux made a very good impression with his sons during the first viewing of the KWPN Stallion Show. Of the nine Ferdeaux sons, no fewer than five were invited to the 2nd viewing in Den Bosch. Ferdeaux seems to be strongly inherited and with his sons the canter was almost without exception a strong point. Our stallion Jackpot (mv. Metall) is a real eye-catcher. Ferdeaux' offspring started making a name for themselves in 2020, with several IBOP winners and young horse competitions. The dressage community are talking about how well Ferdeaux offspring develop as they get older, with their strong canters and talent for collection.
Notable Progeny
4 Approved sons - Jerveaux, Las Vegas, Jarville and Matideaux 3 sons selected for the KWPN Performance Test 2019 - Lacrosse RS2 (ds. San Remo), Lardeaux (ds. Wynton) and Lord Vrijnesse (ds. Sandro Hit) - Jerveaux (ds. Jazz) - Competing Inter I Young Rider Classes - Las Vegas (ds. Wynton) - KWPN Performance Test Winner with 90 Points - Jim (ds. Spielberg) - Winner PSG in USA Ferdeaux can benefit dressage horse breeding with his willingness, movement, and hind leg use. He is best paired with long-lined mares.
Results for Ferdeaux
- 4th May 2022 Prix St. Georges debut under Renate van Uytert – van Vliet with 72.64% - Winner Prix St. Georges Beesd with a score of 76.18% - Winner of the small final N.K. Dressage with a score of 69.71%