Furst Dior
FÜRSTENBALL x SIR DONNERHALL L
Top talent showed his aptitude in a winning sport test in Münster-Handorf, Reserve champion H.K. Mecklenburg
Stud Book:
MECKLENBURG, OLD, HANN
Health Status:
WFFS Negative
Stud Terms:
Repeat attempts until 1st October 2023. If no pregnancy is achieved in this period, a refund of £856 + VAT will be given upon receipt of a "Not In Foal" Veterinary Certificate
Stud Fee:
See Below - Chilled Semen Available until 31st August 2023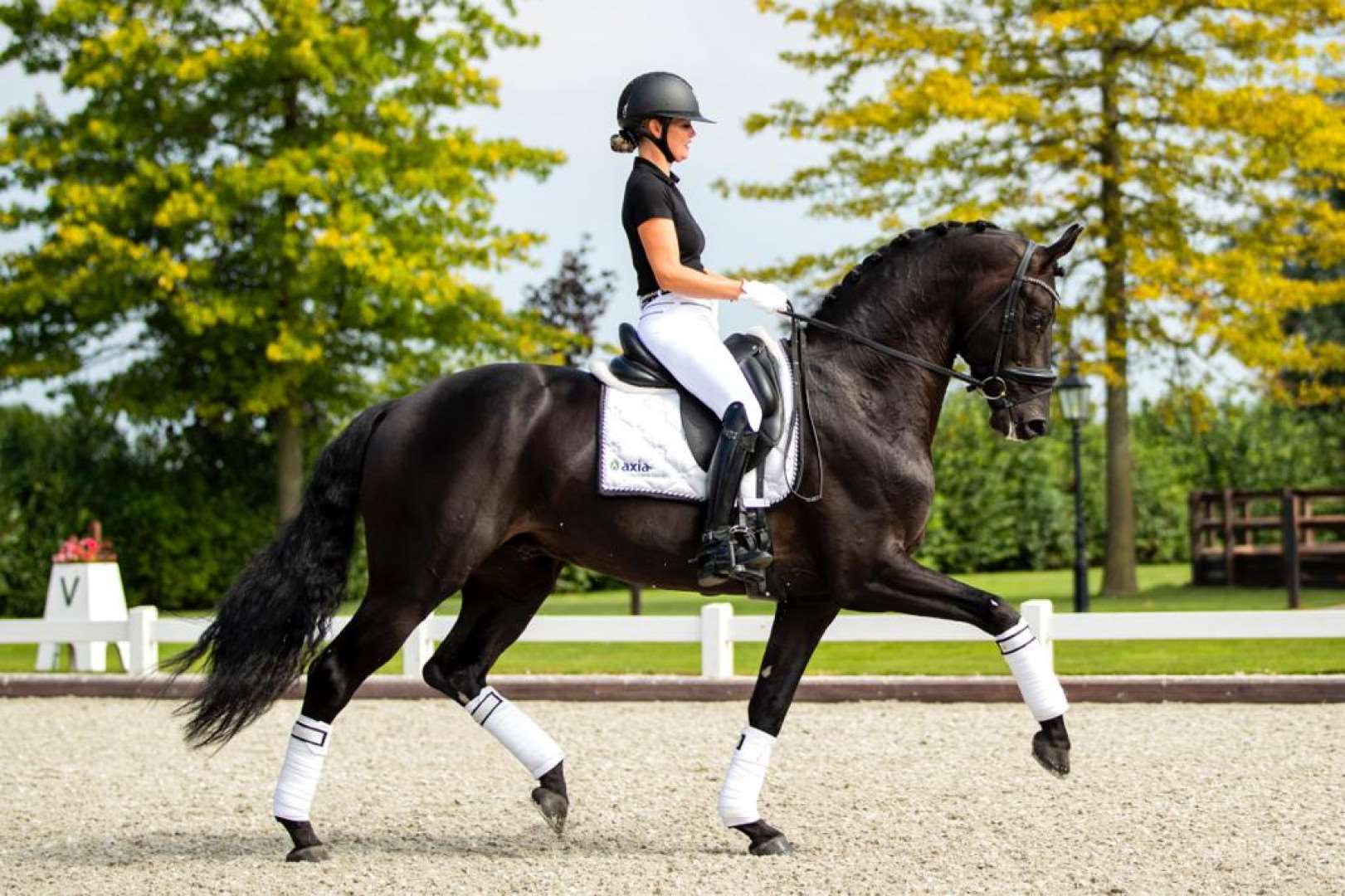 No products match your search criteria
Biography
Everything seems to come together in Fürst Dior. The reserve champion from Mecklenburg has new blood for Dutch dressage horse breeding, based on the German foundation stallions Fürstenball, Sir Donnerhall and Rubinstein I. His sire Fürstenball, sire of the Olympiad horse Heiline's Danciera under Carina Cassøe, is increasingly becoming an influential stallion within European dressage horse breeding. . In the 2021 WBFSH Sire Rankings, dam's sire Sir Donnerhall is in 4th place. Fürst Dior himself is developing very well under Renate van Uytert van Vliet. He is now 6 years old and they will start in the Z class this summer. He has a great model, a lot of breed and stallion appearance. His basic gaits have an abundance of natural spring and impulsion, which he also passes on to his foals. The auction topper of 2021 was Rieky's Design (Fürst Dior out of Hermès dam), which was sold to Scottish buyers for € 35,000 during the EDS-Prinsenstad foal auction. 2021 Fürst Dior performed very well with Renate van Uytert-van Vliet in the free practice on Monday and in the competition test, receiving praise from the jury. On Tuesday with the test rider, his transitions from walk to trot were somewhat quick, as well as from trot to canter. He still earned a very nice final score of 8.28 points. Trot 8.8 - Canter 8.3 - Walk 8.0 - Rideability 8.1 - Overall impression 8.3. His father Fürstenball, a Bundeschampion, is a very influential stallion in European dressage horse breeding with multiple offspring. In the World Cup competition for 7-year old dressage horses, Fürstenball had three offspring in the finals: - Bronze medal winner Fürsten-Look with Isabel Freese - Fourth-place Heiline's Danciera with Carina Cassoe Krueth - Nexolia Feodoro with Simone Pearce in 14th place. Dam sire Sir Donnerhall was Reserve-World Champion and is a top 10 WBFSH ranked stallion. For many years, Sir Donnerhall offspring have dominated the Bundeschampionat in Warendorf. Sa Coeur became World Champion under Eva Moller in the 5 and 6 year old dressage horse competitions. The third generation includes the top breeding and Grand Prix stallion Rubinstein I, who has produced several international Grand Prix horses such as Renoir-Unicef, Rohdiamant, Relevant, Robinson, Rubinstar, Ravell and Rubiquil. Fürst Dior's dam line includes a diverse group of German M through to Small Tour levels. This mother line has produced several approved stallions such as Dream Rubin, Self Control, and Nairobi. The 5th generation includes Welt AS that sired Olympic horse Bonfire. Both his descendants and Fuerst Dior himself present quality and talent. Fürst Dior is very willing to work - he stood out from the crowd as a 3 year old under saddle and we anticipate a bright future both as a breeding stallion, but as a top competition horse too.
Notable Progeny
In 2020, Fürst Dior produced a good group of foals. They often look like Fürstenball and grandfather Sir Donnerhall. They tend to have a nice lift in all three paces and a good hindleg conformation, in addition to a beautiful dark colour and a lot of front. Many of his offspring have a very good walk too.
Results for Furst Dior
2020 Sport test winner in Münster-Handorf with a very good score of 8.83 Ritigkeit 9.1 Step 9.2 Trot 8.4 Gallop 8.5 Total 8.83 Good 14-day test Schlieckau Setting 9.0 (Leistungsbereitschaft) Interior 9.0 Character 9.0 Ritigkeit 8.5 Gallop 8.5 Trot 8.0 Step 7.5 (Was a bit tense in his last test) Jumping 7.48 Fürst Dior has it all. The reserve champion of Mecklenburg introduces new blood into Dutch dressage horse breeding with German stallions that consistently stamp their offspring.