Future Illusion
FLEETWATER OPPOSITION (TRAKEHNER) x THE OUTLAW
Sire of CCI4* eventers, HOYS Supreme In Hand Champions, BYEH and Badminton Grassroots Finalists, Express Evening winners and Futurity Champions
Breed:
Trakehner x Thoroughbred
Health Status:
WFFS Negative
Stud Fee:
£765 + VAT fresh on site, or discounted split fee (£300 +VAT) + (£300 +VAT in foal) frozen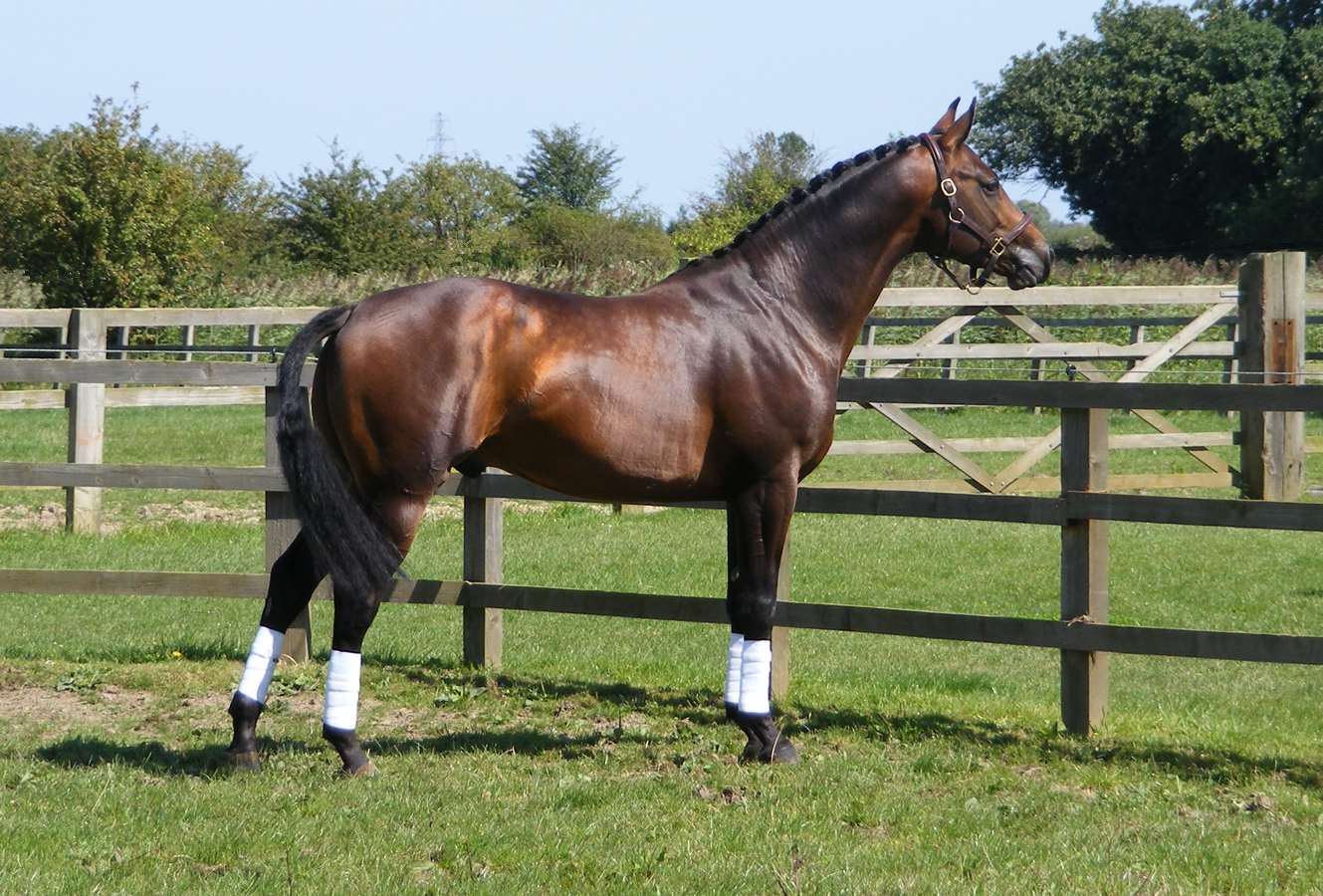 No products match your search criteria
pedigree
FLEETWATER OPPOSITION (TRAKEHNER)
DONAULEID VON SCHIMMELHOF
Biography
Future Illusion's bloodlines are exceptional. He is by the Elite Stallion and double European Junior Eventing Gold Medallist Fleetwater Opposition, out of the Head Stud Book, Champion Sporthorse and Champion Hunter broodmare Future Illicit Affair. His list of impressive achievements includes: – Champion Foal (National Hunter Show 2004) winning the Kadir Cup – BEF '1st Premium' Graded and Reserve Champion Yearling 2005 (All disciplines) – BEF '1st Premium' Graded and Reserve Champion 2yr old Eventer 2006 – Best 2 Year Old colt PAVO British Eventing Breeding Championships 2006 – Champion Hack at the West Midlands In Hand Show 2008 Future Illusion's youngstock are outstanding. He consistently passes on positive trainable temperaments, excellent toplines with very strong loin connection, correct limbs, attractive heads, superior movement with suspension and balance, as well as a natural bold jump. Thanks to their many accoumplishments Future Illusion has been recognised by the following: – No. 1 Ranked Sire of Eventers (2009 BEF Futurity Series – Foals to 3yr olds) – Highest Ranked British Bred Stallion Across All Disciplines in the 2009 and 2010 BEF Futurity Series – Sire of the BEF UK Champion Eventer for 2008 – Sire of 3 BEF Elite graded Event foals -Sire of 100% Elite 1st Premium or 1st Premium Event Foals from his first 4 crops of young stock – Sire of the 1st, 2nd and 3rd placed foals in the Competition Horse Class at Bucks County Show 2009 Future Illusion is Licensed by the Anglo European Studbook (AES). He Evented in 2010 ridden Olympic medallist Janette Brakewell who says: "Future Illusion is a pleasure to work with. He has a very trainable brain, is increadibly rideable and is already showing real ability both on the flat and over fences. He's a natural cross country horse and I'm very much enjoying competing him." He had a spotless cross country jumping record showing his boldness and positive attitude, and had top 11 placings in the majority of his runs. Future Illusion will be combining his training schedule with stud duties. His first few seasons at stud have been increadibly successful attracting a large book of high quality mares, including CCI**** and Advanced event mares, as well as top showing mares. He has sired a filly foal out of the dam of the Pan Am Games Gold Medalist Theodore O'Connor ridden by Karen O'Connor in the USA in 2012. Both his semen and young stock are in demand worldwide both being exported abroad. Stud Fee- £650 LFG. Concessions for proven sport, showing and BEF mares.
Notable Progeny
No. 1 Ranked Sire of Eventers (2009 BEF Futurity Series – Foals to 3yr olds) – Highest Ranked British Bred Stallion Across All Disciplines in the 2009 and 2010 BEF Futurity Series – Sire of the BEF UK Champion Eventer for 2008 – Sire of 3 BEF Elite Cosmic Charm (CCI4* eventer, never had a xc jumping penalty in his career), Unis Midnight Illusion (CCI3* eventer), To Love And Honour (CCI3* eventer), Churchside Reflection (4 x Badminton Grassroots Finalist), Worthy Illusion (Blenheim Eventer Challenge winner), Tell Me Another (HOYS In Hand Supreme Champion)