Johnny Depp
BORDEAUX x JAZZ
Winner 2020 Final Subli Cup 5-year-old dressage horses Jumping Amsterdam
Health Status:
WFFS Negative
Stud Terms:
Repeat attempts until 1st October 2023. If no pregnancy is achieved in this period, a refund of £901 + VAT will be given upon receipt of a "Not In Foal" Veterinary Certificate
Stud Fee:
See Below - Chilled Semen Available until 31st August 2023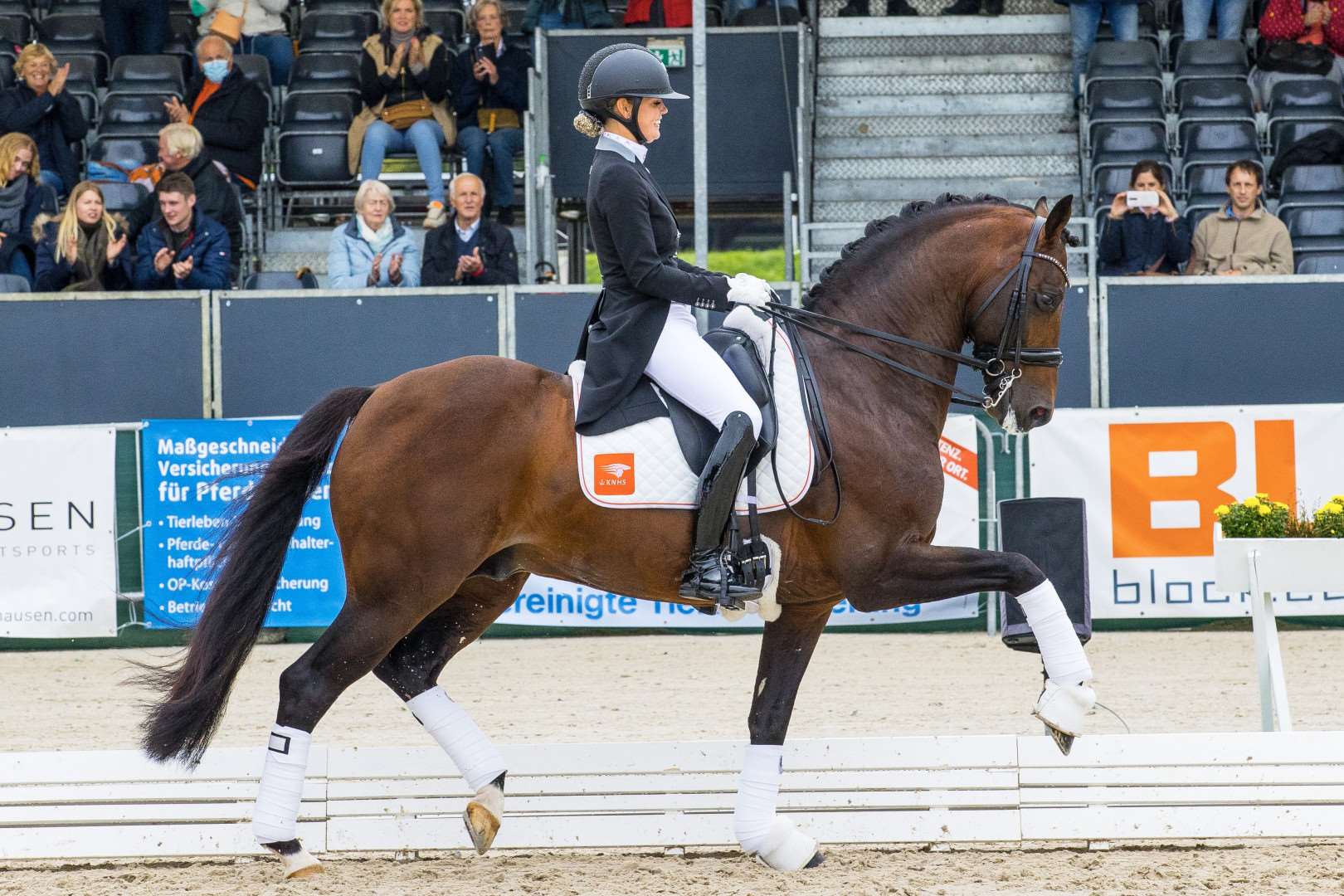 No products match your search criteria
Biography
2022 KWPN recognized, 2021 Final World Cup young dressage horses 7th place, 2019 Pavo Cup winner 5-year-old Dressage horses, 2018 & 2019 winner Subli Cup 2018 Johnny Depp and Renate van Uytert-van Vliet have had a fantastic year together! 2nd place with 89 points Stallion competition 4-year-old dressage stallions Zuidbroek Winner semi-Subli Cup 4-year-old dressage horses 3rd place with 85 points Stallion competition 4-year-old dressage stallions Ermelo 3rd place with 86 points Stallion competition 4-year-old dressage stallions De Peelbergen Winner KWPN Dressage Talent 2018 Oosteind Pavo Cup semi-final 5th place with 86.8 points Subli Cup selection New and St. Joostland 2nd pl. with 86.2% Johnny Depp combines everything you could ask for in one horse: three good gaits that earned an overall 8.5 out of 10 in the KWPN inspections. His basic movement in combination with an excellent work ethic, character, exterior and rideability make him a true top horse. His rider Renate van Uytert-van Vliet says about him: "It's delightful to train and compete with Johnny Depp. He really wants to work for you all the time, and it's sometimes easy to forget that he's a stallion. He learns very quickly and gives you so much power that he's a lot of fun to ride." What success Renate and Johnny Depp have already achieved! Together they are a fantastic combination and they were in great shape approaching the 2020 World Championships for 6-year-old dressage horses. Unfortunately, the World Championships were cancelled due to the Covid-19 crisis. We look forward to their successful competition season in 2021.
Notable Progeny
ohnny Depp's first foals, born in 2020, also seem very promising. They have a beautiful appearance and walk with a lot of spring and ease. Several offspring have been sold for good prices at leading foal auctions.
Results for Johnny Depp
2019 Johnny Depp and Renate van Uytert-van Vliet have had another fantastic year together! Winner semi-final Subli Cup 2nd pl. Stallion competition 5-year-old dressage stallions Zuidbroek 2nd pl. Stallion competition 5-year-old dressage stallions Ermelo Winner Stallion Competition 5-year-old dressage stallions De Peelbergen Subli Cup preliminary round won De Peelbergen Subli Cup preliminary round won Berkel Enschot Pavo-Cup winner 5-year-old Dressage horses World Cup 5-year-old dressage horses Finale W.K. 6th place with a score of 90.2% World Cup 5-year-old dress sur horses ex aequo 2nd place qualifying round with a score of 92.8% Winner Final Subli Cup 4-year-old dressage horses Jumping Amsterdam