Just Wimphof
DE NIRO x RICCIONE
Dutch Champion ZZ-L
Stud Book:
KWPN, OLD, HANN
Health Status:
WFFS Negative
Stud Terms:
Repeat attempts until 1st October 2023. If no pregnancy is achieved in this period, a refund of £946 + VAT will be given upon receipt of a "Not In Foal" Veterinary Certificate
Stud Fee:
See Below - Chilled Semen Available until 31st August 2023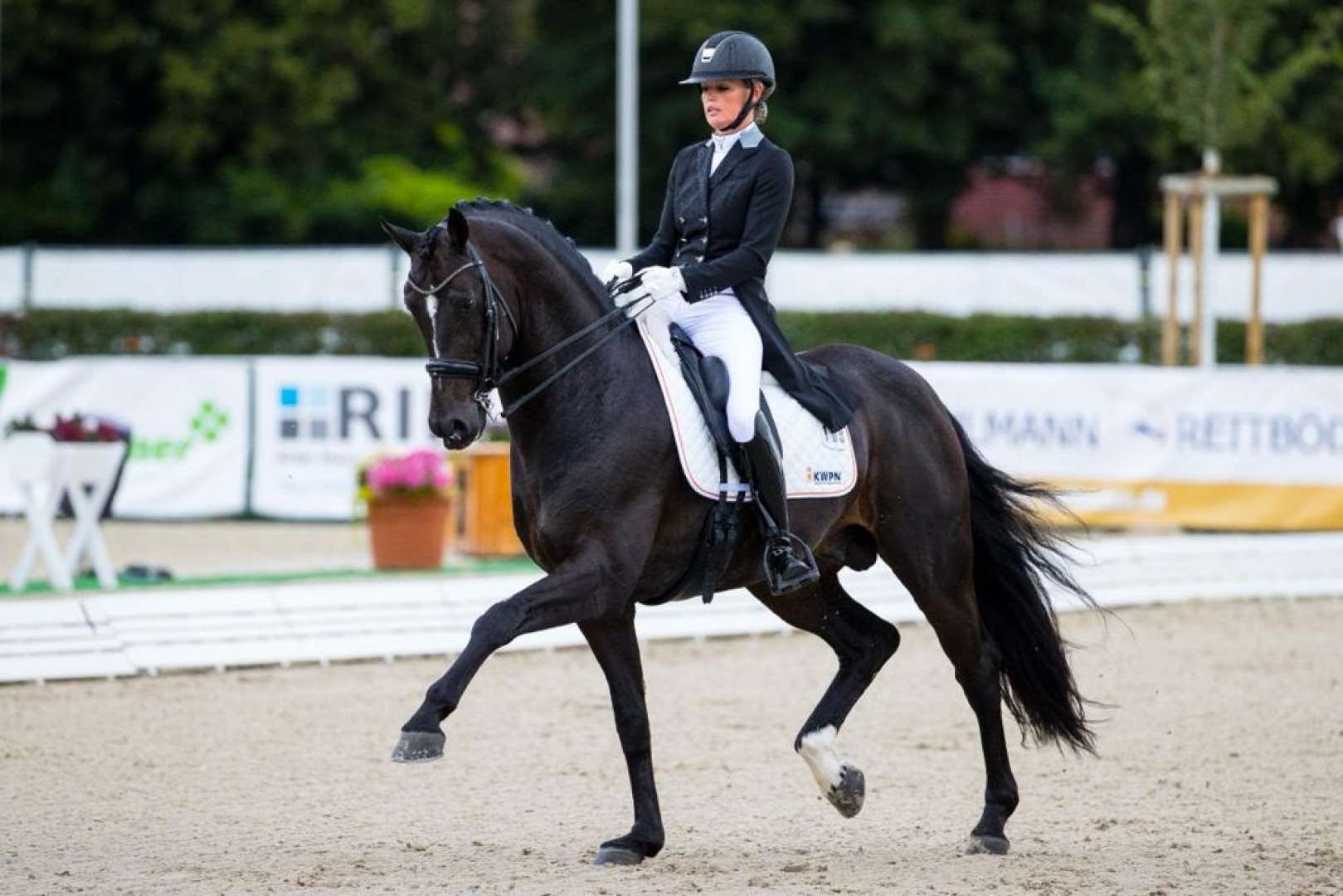 No products match your search criteria
Biography
Now in the beginning of 2022 and 2021, our stallion just Wimphof has put in fantastic performances as a breeding stallion and dressage horse. Some of his successes mentioned above, but also at the World Championships. in Verden he made a strong impression under Renate van Uytert-van Vliet. With high scores they came straight into the Final. The competition was fierce but Renate performed very well in the Final with the following points: trot 9.5 - walk 8.9 - canter 8.3 - submission 8.2 - perspective 8.7. A wonderful conclusion because they qualified for the World Championships together as 5-6 and 7-year-olds. young dressage horses. Just Wimphof received no fewer than 3 KWPN-approved stallions from his first crop, viz. Nick Wimhof pls. Bordeaux, Number Two pl Ferro and Network m.v. Negro. His offspring are very stable under the saddle, he has certainly inherited these qualities from 'De Niro' and his strongly anchored mother line, which also produces the top stallion Don Schufro. Also during the mare season many of his daughters became 'Ster' and 'Voorlopig Keur' with good points, which many mares converted into Keurmare by a good IBOP. Just Wimphof once again made a strong impression at the KWPN Stallionshow 2022 with his high-quality breeding. Four kisses were designated for the Performance Test. During the KWPN pre-selection in Ermelo, 7 sons of his were selected for the 2nd Viewing. This made him the best scoring stallion! What a great winter for Just Wimphof. We were eagerly awaiting his first offspring to compete at the KWPN stallion selection, as we already had some very nice 2.5 year old sons. But you never know what's going to happen next. Just Wimphof topped the KWPN stallion pre-selection in Ermelo with 15 sons. It was a beautiful collection of great moving young stallions with strong connections in the back and loins. The KWPN jury also praised the collection, and 10 of Just Wimphof's sons were chosen for the 2nd viewing. During the KWPN Stallion Inspection that was broadcast online, 4 of his sons moved up to the Performance Test, including our stallions Nick Wimphof (mv. Bordeaux) bred by Tinus Naber from Vredenheim and Number Two (mv. Ferro) bred by us and Gerrit & Anne Marie van Esterik from Ochten. In 2020, Just Wimphof was well trained with his rider Renate van Uytert-van Vliet and competed successfully in the World Championships 6-year-old classes. Together they qualified as one of the 6 combinations that were supposed to compete at the World Championships in Verden.
Notable Progeny
His first two-year-old offspring stand out for their fine character, lovely trot, and excellent walk. Just Wimphof has sired several outstanding foals, including Foal champion Ovezande de Nordiek (x Vivaldi) Zeeland Foal champion Oui Merzzi v/d Waalshoeve (x Charmeur) Utrecht BWP National foal championship three Just Wimphof foals in the top five Just Wimphof has the highest breeding value of his year -- 175. Here's how one KPWN inspector describes Just Wimphof foals: Judge Bert Rutten: "Nice uniform collection with sufficient to good developed foals, that are very good in type and have a lot of appearance. The foundation is correct and strong. The walk is more than sufficient, the trot is light- footed and uphill, and the canter has a lot of balance."
Results for Just Wimphof
2020 Just Wimphof and Renate van Uytert-van Vliet had a fantastic test at the Den Bosch Stallion Competition class M. They were rewarded with 90 points across walk, trot, canter, harmony, and general impression. Walk 9.0 - Trot 9.0 - Gallop 9.0 - Harmony 9.0 - General impression 9.0 - Total 90 points 2019 In the 5 yo classes, Renate and Just Wimphof enjoyed a successful year: 3rd place Stallion competition class M, Zuidbroek 90 points 5th place Stallion competition class M, Ermelo 84 points 4th place Stallion competition class M, De Peelbergen 86 points 2nd place Subli Cup for dressage horses, Emmeloord World Cup final 8.46%