Kjento
NEGRO x JAZZ
WBFSH World Champion 6 and 7yr Old. Nominated for KWPN Horse of the Year 2021 and 2022. 2018 Performance Test Champion with a huge 90 points
Health Status:
WFFS Negative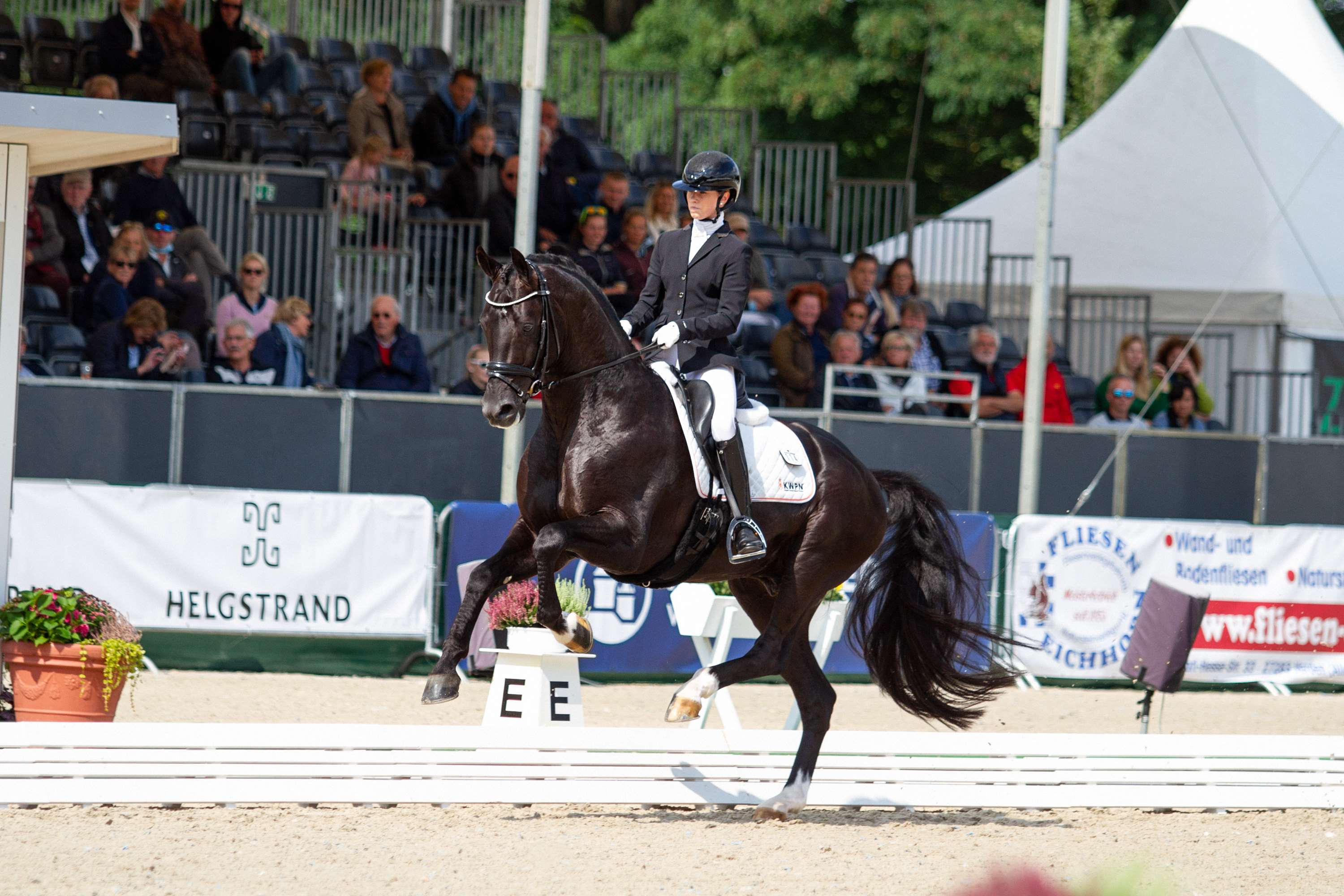 No products match your search criteria
Biography
The preferent top-producer Negro, himself a son of the likewise preferent top-producer Ferro, is the sire of Kjento. Negro, with his approved sons and grandsons, already has a great positive influence on breeding. We also know him for being the sire of Charlotte Dujardin's Olympic champion Valegro as well as the dam sire of the World Champion of 7-year-old dressage horses, Glamourdale (s.Lord Leatherdale), and the upcoming Grand Prix talent, Everdale (s.Lord Leatherdale). The mare Zoriana elite pref IBOP-dr PROK, a daughter of the preferent Jazz, was third in the National Mare Inspection as a three-year-old and then went on to score 90 points in her IBOP, including a 10 for trot. She is competing at Z-dressage-level, just like her mother Poriana keur pref pres sport-dr, a Juventus daughter. Full-brothers of Zoriana are competing at ZZ-Zwaar and ZZ-Licht-level. Furthermore, Poriana also produced two Z2-level dressage horses by Vivaldi. The third dam, Koriana keur pref prest sport-dr (s.Rubinstein I), also produced several sport horses. She is the dam of the Small Tour horses Rhapsody (s. Lancet), Zidana (s.Krack C) and Uno (s.Jazz). Furthermore, she also produced three Z-level dressage horses by Johnson and one by Krack C and is the granddam of various other Z/ZZ-level horses. Kjento is an honest, reliable, rider-focused stallion with an excellent temperament. The stallion is very willing to work and is very easy to work with. The walk is active, clear-cut and has good scope with good use of the body. The trot is very powerful, has good scope with a an extremely active hind leg that comes under well and carries very well. The canter is uphill, very powerful with very good self-carriage and scope. Kjento moves with good 'takt' and has very good leg action, self-carriage and balance; his great ability to collect attracts positive attention. As a dressage horse Kjento is very talented and gives his rider a good feeling. Kjento can improve movement, scope, use of body, rideabilty and temperament and can contribute ability to close/collect to dressage horse breeding.
Notable Progeny
- Paisible (ds. Krack C) sold to Andreas Helgstrand for €51,000 at the Borculo Auction. - Pjento E (ds. Bordeaux) sold to Spain for €38,000 at the Borculo Auction. - Princeville JT (ds. Lord Leatherdale), sold for €32,000 at Van Olst Foal Auction. - Philicity (ds. Desperado) sold for €26,000 at the Van Olst Foal Auction. - King Kjento (ds. Grey Flanell) sold for €49,000 at the hybrid DSP Foal Auction at Ludwigsburg
Results for Kjento
FEI World Champion of the 6-year-old dressage horse with 96% and FEI World Champion of the 7-year-old dressage horse with 85.786%. Nominated for KWPN Horse of the Year 2021 and 2022. Kjento won the first round of the PAVO Cup semi-final in 2019, after which he finished in a fantastic second place in the final. He also scored very good in the stallion competition with top rankings in Kronenberg, Ermelo and Zuidbroek. In the final he managed to finish in second place, with only 1 point away from the winner. During the stallion presentation of the KWPN stallion selection in Ermelo in 2021, Kjento achieved the ultimate 10 for his trot and a 9.5 for the canter. He finished at the top with a total of 90 points.