Nixon Van't Meulenhof
DENZEL V'T MEULENHOF x CARTHAGO
Nixon van't Meulenhof is a young promising stallion. A tremendous pedigree from both his Sire and Dam
Health Status:
WFFS Negative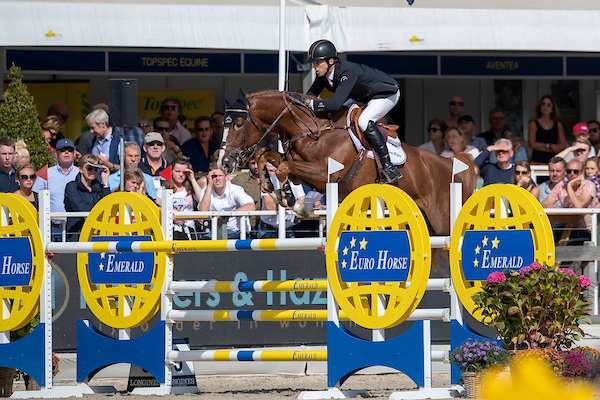 No products match your search criteria
pedigree
TANAGRA 'S' VAN HET DAROHOF
Biography
Nixon van't Meulenhof was approved by the BWP in 2016. Here he was seen as one of the promises for the future. The stallion is developing very well. His power and strong hindquarters make him a real striking personality. In 2018 he won the Pavo Stallion Competition for 5-year-olds, at the end of 2019 he starred with Harrie Smolders in Jumping Mechelen where this combination won the 6-year-old stallions' competition. SIRE: Denzel van't Meulenhof is a young stallion by Marius Claudius who in turn has produced several international horses DAM: Is the mother of the famous stallion Emerald van het Ruytershof (Diamant de Semilly) and Diamanthina van de Ruytershof (Diamant de Semilly).
Notable Progeny
Rihanna Dwerse Hagen, Razz Bacardi Tt, Royal Star Gc, Rozelien Dwerse Hagen, Raoul Dwerse Hagen, Rusty Van Het Leliehof, Red Bull M, Rummikub De Muze, Rock Star EH, Rockdale Dwerse Hagen, Ritz ter Charleston, Rising Sun Dwerse Hagen, Navarro Eh Z, Nyala CK Z, R-Neovanna EH, Renshaw van't Meulenhof, Sweet Life Dwerse Hagen, Regina Vg, Reintje Dv, Roulette van't Bosveld
Results for Nixon Van't Meulenhof
• 2022 CSI3* GP - Opglabbeek (BEL) (1.55m) • 2022 CSIO5* - Knokke (BEL) (1.55m) • 2022 CSI3* - Valence (FRA) (1.50m) • 2022 CSI5* - Brussels (BEL) (1.50m) • 2022 CSIO5*-NC EUD1 - Rotterdam (NED) (1.50m) • 2022 CSI3* - GP - Lanaken (BEL) (1.50m) • 2022 CSI4* - Ascona (SUI) (1.50m) • 2022 CSI3* - Lanaken (BEL) (1.50m) • 2022 CSI4* - Wellington, FL (USA) (1.50m) • 2022 Lanaken - 2nd qualifier NatCh (Seniors 1.50m)