Nordic Blue Hors
TOTILAS x JAZZ
A son of Totilas with Great Expectations
Stud Terms:
Up to 3 doses to Achieve 1 Pregnancy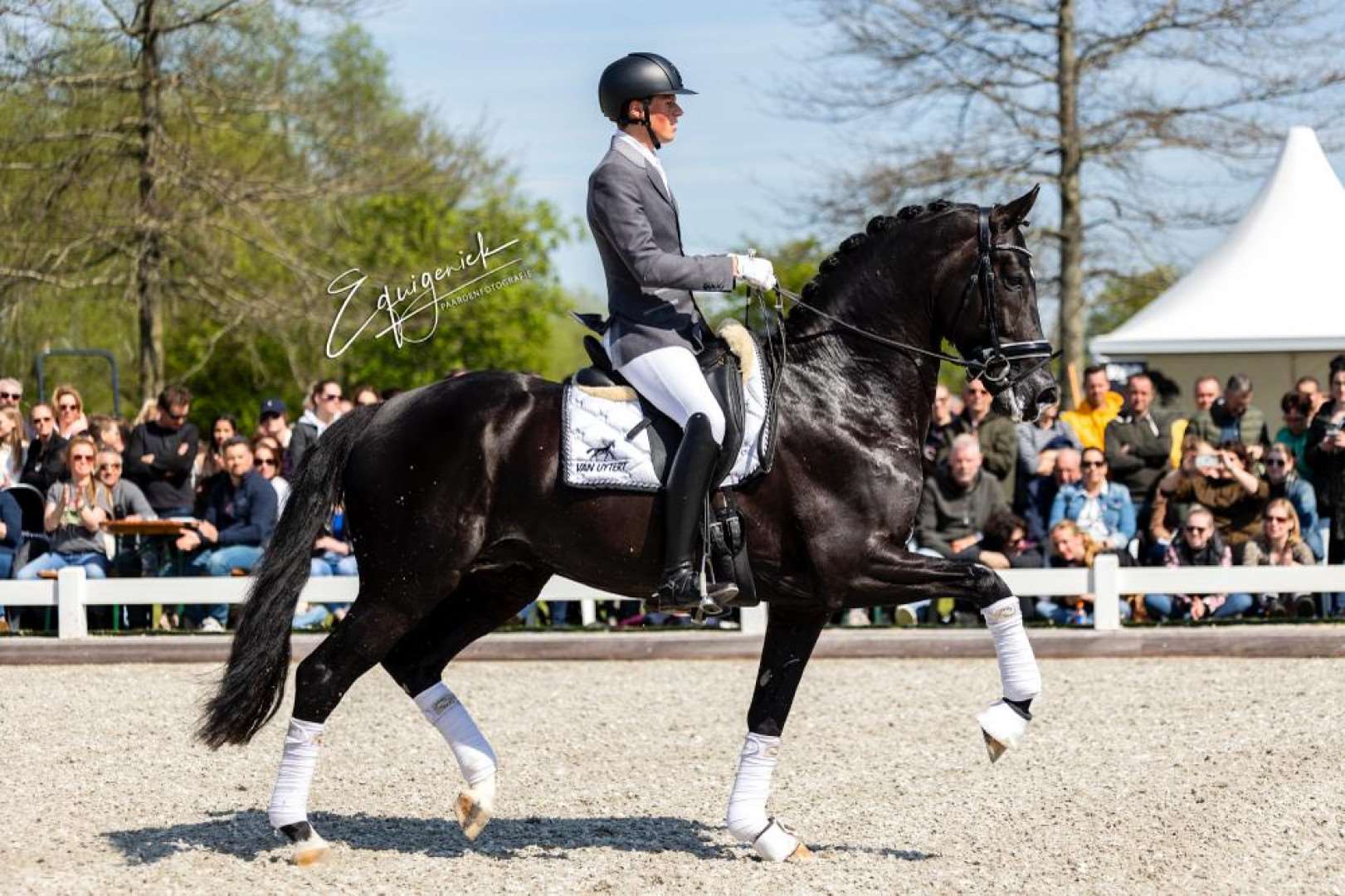 No products match your search criteria
Biography
Van Uytert have great expectations for this KWPN approved, young Totilas son, who shows already lots of talent for collection and has so much power in his gaits. Nordic Blue Hors has already made a huge impression during the KWPN Stallion Show 2021 where Van Uytert, together with Blue Hors Stud, decided to acquire him. Nordic Blue Hors is bred by Sjef Janssen together with Stal de Beukenvallei. "We think we have a truly worthy follower in him in the Totilas-dynasty" - Van Uytert Horses.nl 2021 announcement: The highlight of the collection was the black stallion with 4 white socks under cat. nr. 564 (by Jazz x Rubinstein x Exkurs xx) bred by Sjef Janssen together with Stal De Beukenvallei. A distinguished stallion who stood out because of his leg technique, his ability to switch in transitions and quality canter. The dam is a half-sister of the ZT horse Athene B (by Don Schufro) and Victoria B (by Florestan I), who respectively ZT and ZZL classified Nordic Blue Hors descends from the dressage phenomenon Totilas who caused a lot of furore under Edward Gal. Totilas' unprecedented sporting achievements are reflected in his titles as World Champion and World Cup winner. Nordic Blue Hors is the sixth KWPN approved son of Totilas. The dam of Nordic Blue Hors is the ster, sport (dr), PROK mare Demeter B, a daughter of the preferent top sire Jazz. Demeter B is classified at Z2 level and also produced a Z2 dressage horse. The dam line continues with the star, preferent, performance, PROK mare Rhea B, a daughter of the influential Grand Prix stallion Rubinstein I in Germany. Rhea B produced, among others, the Big Tour horse Athene B. (s. Don Schufro), the ZZ-Licht horse Victoria. B (s. Florestan I) and a Z2 dressage horse. The predicate-rich great-granddam of Nordic Blue Hors is Hera I, an elite, preferent, performance, PROK mare by Belisar. Hera I is also the dam of several sport horses; in combination with Welcome she produced the Big Tour horse Ulixes and several Z-classified dressage horses. Official KWPN Performance Test Report 2022: Nordic Blue Hors is an honest and reliable stallion with a good attitude. The stallion is a bit distracted at times, but can still be worked more than sufficiently. The stallion could sometimes be even more constant and quieter in the hand. The walk has good rhythm, is active, has very good scope and breaks well. The trot has good leg technique, with a good hind leg coming under. The canter has good scope, powerful impulsion and good to very good balance. The stallion has good suppleness and at times shows that he has the ability to close. As a dressage horse, Nordic Blue Hors has a lot of talent and gives his rider a more than sufficient to good feeling.