One Million
VIVALDI x APACHE
Young, Top Talent with a Great Attitude
Health Status:
WFFS Negative
Stud Terms:
Repeat attempts until 1st October 2023. If no pregnancy is achieved in this period, a refund of £630 + VAT will be given upon receipt of a "Not In Foal" Veterinary Certificate
Stud Fee:
See Below - Chilled Semen Available until 31st August 2023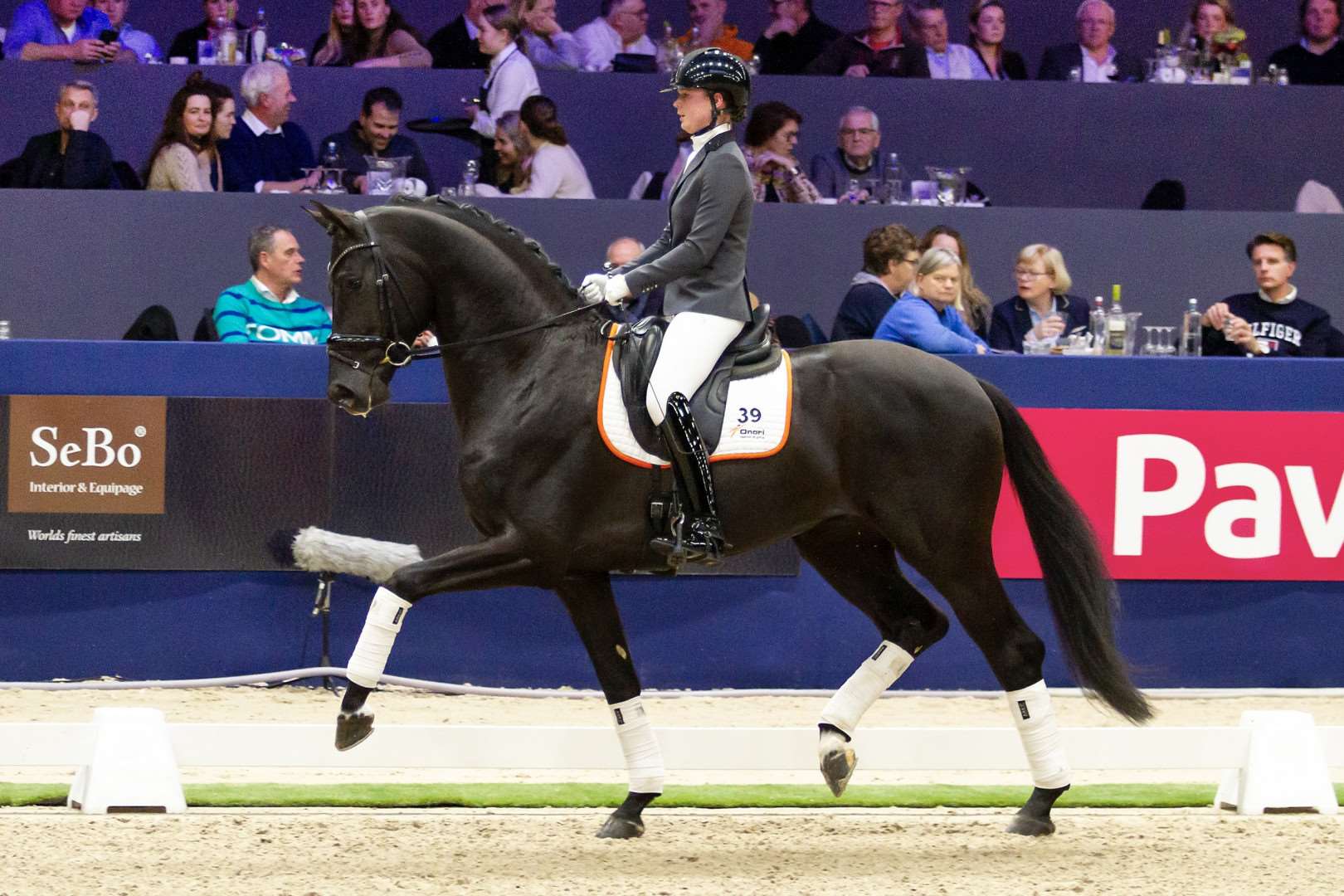 No products match your search criteria
Biography
One Million - An exciting young stallion and a worthy successor to his influential sire, Vivaldi and with the strong top sires Apache and Negro on his dam line, it makes him a very interesting breeding stallion. His dam line also features a lot of sport in the pedigree. Caraat, the Rio Paralympic Silver and twice Bronze medal winner under Rixt van der Holst, descends from his granddam. One Million has an exceptional conformation, with a lot of charisma and is a stallion to watch. Pedigree: Preferent sires unite in the pedigree of One Million. His sire, Vivaldi, has a large number of approved stallions in his offspring, as well as many well-performing horses at the top level of dressage sport and has left his mark on the international dressage breeding program. Dam, Joyrider (elite IBOP-dressage PROK by Apache), stood out at the IBOP test with 80 points for both her conformation and her movement. One Million is Joyrider's first offspring and he's . Grandmother Ultimaat (star provisional approval Preferent prestation PROK mare (s. Negro)) serves as dam of the Big Tour horse Guess (s. Olivi), as well as the Small Tour horse Caraat (s. Gribaldi), and two Z2 dressage horses. The dam line continues with the predicate-rich Aktion daughter Fanaat, whose offspring has performed well in both sport and breeding. Fanaat serves as dam, granddam, and great-granddam of a large number of sport horses. The dam line of One Million also goes back, via Fanaat, to the KWPN approved stallion Grand Galaxy Win. KWPN Performance Test Report 2022: One Million is a long-legged and elegant stallion with a lot of expression in his forehand. The stallion can be worked well by his ride and is a pleasure to ride. The walk is clear in four-stroke, shows a very good transition but could be a bit more powerful. The trot has good scope, has good foreleg technique. The hindleg could come a fraction more under the body. The canter is in a good three-stroke, has good scope, and has more than sufficient impulsion and power. One Million moves with a lot of flexibility, has a good balance, and a lot of self-carriage. As a dressage horse, One Million has a lot of talent and gives his rider a very good feeling. Stable Behaviour: Honest, reliable stallion, easy to handle, and quiet in the stable.
Notable Progeny
Breeding/Adaptation Advice: One Million can improve forehand expression, add charisma, and self-carriage to dressage horse breeding.
Results for One Million
KWPN Performance Test Scores 2022: Walk (2x) - 8.5 Trot (2x) - 8 Canter (2x) - 8 Elasticity - 8 Posture and Balance - 8.5 Rideability and Attitude - 8.5 Talent as a dressage Horse - 8 Total score - 82 Points