Samaii
SAMBERTINO x BRENTANO II
Samaii is the ONLY British bred tobiano life approved fr warmblood breeding worldwide.
Health Status:
WFFS Negative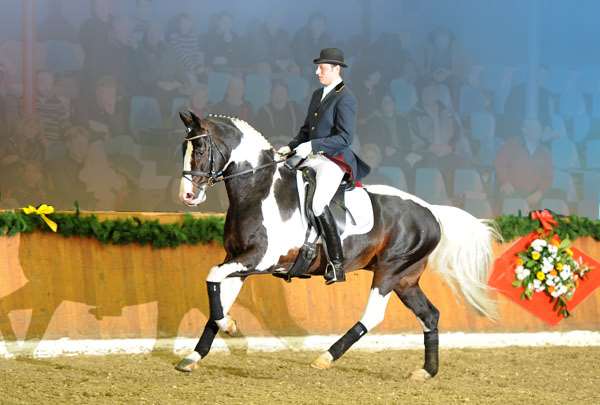 Order Samaii semen
Owner/Agent: Cheryl Mitchell
Email: cheryl@flaxlion.com
Note: Stud fees are payable direct to the stallion owner and must be paid prior to ordering semen from SAIS
No products match your search criteria
Biography
Samaii is the ONLY British bred tobiano life approved fr warmblood breeding worldwide. Licenced as a premium stallion - 30 - 70 day tested & Adv medium winner. Sire: Sambertino has been extremely successful in competition and as a sire of competition horses with progeny winning Grand Prix, Paralympic Medals and Showing Championships. He has 4 licensed sons to date and was ranked 2nd BEF Dressage Sire in 2007. Dam: Elite Berolina is an Elite graded ex Verden auction mare. She has an exceptional temperament, loose elastic paces and scored 9 for her walk on her Mare Performance Test. She has had 4 foals to date: • Santano (Sandro Hit) WBS Reserve Champion Stallion • Samaii • 2008 colt (Don Ricoss) 2 year old stallion prospect • 2009 filly (Samaii's full sister) Premium Oldenburg foal Grand Dam: Adrienne produced licensed stallions Almaden (100 Day Test Reserve Champion), Acambro & Dombek. Great Grand Dam: Elfi (half sister to Endkampf) is dam to full siblings Dynamit & StPr Dina. Dynamit was exported to NZ and StPr Dina is dam to Salvano (sire of stallions Sherlock Holmes & Salieri, the latter being the sire of Anky's Olympic Champion Salinero). This dam line is one of the most important for Hanoverian breeding tracing back to the Schumann-mare S449. Grand Sire: Brentano II, Hanoverian Licensing & Performance Test Champion. 2003 'Hanoverian Stallion of the Year'. Sire of 20 licensed Hanoverian stallions, Olympic & World Cup horses.
Notable Progeny
A high proportion of Samaii's first foal crops have been awarded Premiums by Oldenburg & ZfdP. Two foals qualified for the '09 ZfdP National Pinto Show where they took Champion & 3rd place, and Sookie-Lynn ('09 filly) took Champion at a German Regional foal show. In the UK the british bred ZfdP Premium S Team Spirit was Champion Competition yearling at the '09 Equifest.